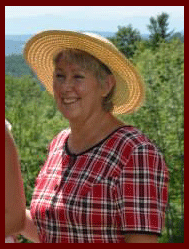 Donna J. Snay
I remember the day so well. It was back in the summer of 2015 that I received an unsolicited phone call from a Donna J. Snay in South Paris. Donna was a REALTOR® who was 'interviewing' real estate agencies after the one she was with closed down. We made an appointment for her to come to Kezar Realty for a visit.
Based on our geographical distance, I thought it was a bit unusual for her to contact a Lovell Agency. She mentioned that she always took note of our four-color ads in the Buyer's Guide and thought that we would be a good place for her to hang her hat.
Donna was a person who never hesitated to go after business. She enthusiastically solicited FOR SALE BY OWNERS, expired listings in addition to letting everyone know that she could sell their home or assist them in buying a new one. Now, everyone who works in sales knows how difficult it can be to ask a stranger for their business! But she completed successfully a number of transactions which originated with such contacts.
A very private person, Donna did not discuss too many things unrelated to business. She loved her family, especially her grandchildren.
Rest in Peace Donna. You will be missed.